SmarTab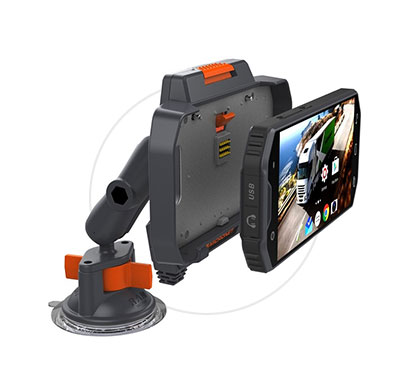 Micronet SmarTab is a next generation Android Rugged Tablet designed for both in-vehicle and out-of-vehicle use. Coupled with a vehicle-connected cradle, it allows for seamless shift between in-cab Telematics mode of operation, and standalone field-service mode of operation. SmarTab provides a versatile, advanced and affordable mobile computing platform for a variety of Fleet Management and Mobile Workforce Management solutions.
In the vehicle:
Placed in its vehicle-connected cradle, SmarTab functions as a high-end on-board Telematics computer. With integrated GPS, cellular communication, various sensors, and support for a variety of vehicle-bus and peripheral interfaces, SmarTab enables a host of Fleet Management and mobility solutions such as: ELD/HOS, fleet tracking, driver behavior, real-time driver coaching, real-time fuel management, remote diagnostics, and much more.
With a 5.5″ multi-touch hardened screen, SmarTab supports navigation solutions, routing and dispatch applications, task management, real-time feedback to the driver, and communication with head office and customers. SmarTab's two cameras together with its powerful processor and extended memory, allow it to run advanced algorithms required for applications such as video analysis, driver fatigue recognition, and ADAS.
With a rich set of wireless and wired interfaces such as WiFi hotspot, BT tethering and BLE, Bluetooth Audio, NFC, WiFi direct, multiple CAN channels (including open/customizable CAN libraries) and multiple I/O, SmarTab can function as an in-cab hub to which other devices, sensors, and accessories easily connect.
In the field:
Once out of the vehicle, SmarTab lets mobile workers remain effective and efficient with on-the-fly connectivity, any time, anywhere, using cellular communication and WiFi. Designed to withstand shocks, drops, water and dust (IP65), and a range of temperatures, it allows workers to operate freely in any environment. With a lightweight pocket-sized form factor, SmarTab is easy to carry and operate.
Ideal for signature capture, proof of delivery, field service applications, taking notes, managing tasks, taking high-quality photos, scanning barcodes, communicating with the back office, making video calls, and much more, SmarTab is the cost-effective solution for Mobile Workforce Management.
Extended pool of services:
With ability to run multiple applications simultaneously, SmarTab allows Telematics Service Providers and System Integrators to extend their offering beyond their own application, and provide their customers with 3rd party advanced mobility and field-service applications.
Shorter development cycles:
Powered by Android open platform, SmarTab offers a comprehensive development environment for independent application programming and system integration. With a huge ecosystem of Android development tools and software frameworks, and with a flourishing community of developers, working with Android devices lead to rapid development and integration cycles.
Lower Total Cost of Ownership:
Designed to operate in rough automotive and field environments, wide range of temperatures, shocks and vibrations, SmarTab lowers the Total Cost of Ownership.
Device specifications
---
Operation Model
Portable/Fixed with In-Cab Cradle
---
Operating System
---
Display
5.5", HD (1280 X 720)
Capacitive Multi-Touch screen
---
Processor
Qualcomm, Snapdragon 410, 1.2 GHz
Quad Core (4x ARM® Cortex™ A53)
---
RAM
---
ROM
8GB eMMc
Micro SD Card Slot – Up to 32GB (Internal)
---
Peripheral Interfaces (By Device Cradle)
RS-232,  USB Host
Variety of Digital/Analog I/O control signals
Vehicle Bus interfaces
---
Wireless Interfaces
---
Integrated Cellular and GPS
---
Integrated Cameras and Sensors
Cameras – Front: 2MP, Rear: 8MP + Flash
Motion sensors – Compass, Gyroscope, Accelerometer
---
Power
5V DC (by USB OTG connector)
Internal Battery – 2,000mA
Direct Vehicle Battery connection -12V/24V (by Device Cradle)
---
Mechanical
IP – IP65
Drop – 1.2m, MIL-STD-810G compliant
Vibration – SAE-J1455 compliant
Mechanical shock – SAE-J1455 compliant
---
Environmental
Operating: -4 °F to +158 °F (-20 °C to +70 °C)
Storage: -22 °F to +176 °F (-30 °C to +80 °C)
Humidity – 95% ±5%RH, +40°C, non-condensing
RoHS – RoHS II compliant
---
Certifications
---
---
Standard Cradle specifications
---
Communication interface
---
Input signal
Digital/Analog Input signal – Ignition switch status control
---
Input Power
Direct Vehicle Battery connection -12V/24V
---
Mechanical
IP – IP45
Vibration – SAE-J1455 compliant
Mechanical shock – SAE-J1455 compliant
---
Environmental
Operating: -4 °F to +158 °F (-20 °C to +70 °C)
Storage: -22 °F to +176 °F (-30 °C to +80 °C)
Humidity – 95% ±5%RH, +40°C, non-condensing
RoHS – RoHS II compliant
---
Certifications
---
---
Enhanced Cradle specifications
---
Communication interfaces
RS-232 – 4 X RS-232 ports
USB – 1 X USB Host port
---
I/O Signals
Inputs – 7 X Digital/Analog Input signals
Outputs – 4 X Open Collector Output signals
---
Vehicle BUS interfaces
CAN – 2 X CAN interface port
J1708 – 1 X SAE-J1708 interface port
---
Input Power
Direct Vehicle Battery connection -12V/24V
---
Mechanical
IP – IP45
Vibration – SAE-J1455 compliant
Mechanical shock – SAE-J1455 compliant
---
Environmental
Operating: -4 °F to +158 °F (-20 °C to +70 °C)
Storage: -22 °F to +176 °F (-30 °C to +80 °C)
Humidity – 95% ±5%RH, +40°C, non-condensing
RoHS – RoHS II compliant
---
Certifications