CE-500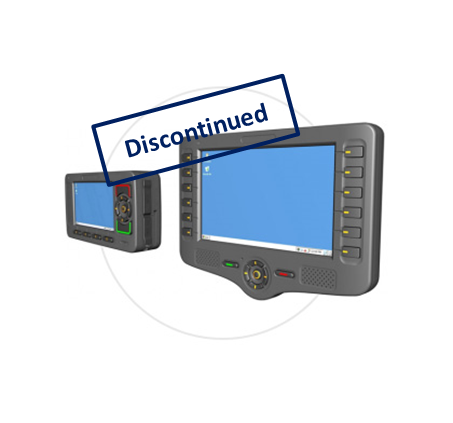 The CE-500 provides OEMs (Original Equipment Manufacturers) and Telematics ASPs (Application Service Providers) with a rugged, versatile, vehicle-centric, and fixed-mount or portable mobile-computing platform for a variety of MRM (Mobile Resource Management) applications.
The platform features Microsoft Windows Embedded CE 6.0 operating system, supporting Compact Framework 3.5, and offers a comprehensive development environment for independent application programming and system integration.
Its unique layered architecture makes the CE-500 highly modular and scalable, allowing for variable factory-set configurations by using plug-in modules.
This future proof and cost effective design: simplifies maintenance tasks, significantly extends product life expectancy, and lowers TCO (total cost of ownership).
The CE-504 Base configuration and the CE507 Base configuration are the standard set of features and functions of the MDT. There is a range of optional Extensions, add-ons and Accessories to further enhance the CE-500 capabilities to serve advanced fleet management solutions.
The CE-500 is built to withstand a wide temperature range, vibrations, shock, and endure the rough working conditions in the commercial vehicle environment.
Operation Model
Fixed/Portable with In-Cab Cradle
---
Operating System
Microsoft Windows Embedded CE 6
Core/Professional License
---
Display
7" WVGA (800 X 480)
4", WQVGA (480 X 272)
Resistive Touch screen
---
Processor
TI Omap 3503, 600 MHz
ARM Cortex™ – A8
---
RAM
---
ROM
512MB
SD Card Slot – Up to 32GB
---
Peripheral Interfaces
RS-232, USB OTG, USB Host
Digital/Analog I/O
Vehicle BUS connectivity
---
Wireless Interfaces
---
Integrated Cellular and GPS
---
Power (through the device's cradle or main interface cable)
Direct Vehicle Battery connection (12V/24V)
---
Environmental
Operating: -4 °F to +158 °F (-20 °C to +70 °C)
Storage: -22 °F to +176 °F (-30 °C to +80 °C)
Humidity – 95% ±5%RH, +40°C, non-condensing
IP – IP65 (Device)
---
Certifications